Tasha's Playground Fan Page

Find me on Facebook


Saturday, April 14, 2012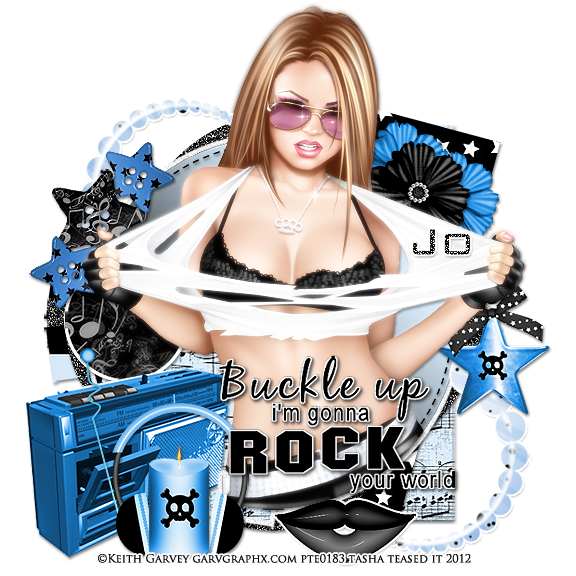 Kit- Rock Out by JRB Scraps. You can purchase this kit at PTE.
Tube- I'm using the gorgeous work of Keith Garvey, which you can also purchase at PTE with a valid license.
Template- KKdeecollab4 which you can get here
Font- Bank Gothic or font of choice
Photoshop CS5 or program of choice
I use a Mac so when I use Command, you may need to use Ctrl
Open your template. Image>Duplicate. Close out original template.
Image>Resize to preferred size, then Image>Canvas Size and make it a bit bigger so you have room to work.
Delete the info, rock your world, top white strip, bottom white strip, and halftone brush layers.
Move beads layer right above blue square layer.
Highlight the blue rectangle layer.
Command+Click on it's icon in the layer window to create a selection around it.
Add paper of choice as a new layer above it- I used paper 6.
Select>Inverse, hit delete on paper layer. Deselect.
Repeat with remaining template layers. I used-
black strip- Filter>Add noise- 50%, gaussian, monochromatic checked
pink shape- colorize and add noise
gradient circle- colorize or add new layer with gradient of choice
Add your tube of choice below your word art layer.
Command+J to duplicate. On top copy go to Filter>Blur>Gaussian blur 2px
Change blend mode to Screen, Opacity 80%. Drop Shadow bottom tube layer.
Command+Click your gradient layer. Select>Inverse.
Choose your eraser tool. On each tube layer, erase the bottom parts so they
line up with the gradient circle. Deselect.
Now decorate your tag with elements from the kit.
Resize and drop shadow as you go along.
From bottom to top I used:
9- Layer Styles>add 2px white stroke
13- duplicate, flip, reposition
Now crop, trim and resize your tag.
Add copyright and license info.
Add name and any additional text.
Merge, save as PNG, enjoy :)
Thank you for trying my tut. If you have any questions or would like to show me your results, feel free to email me: bananas_68@yahoo.com