Tasha's Playground Fan Page

Find me on Facebook


Monday, April 2, 2012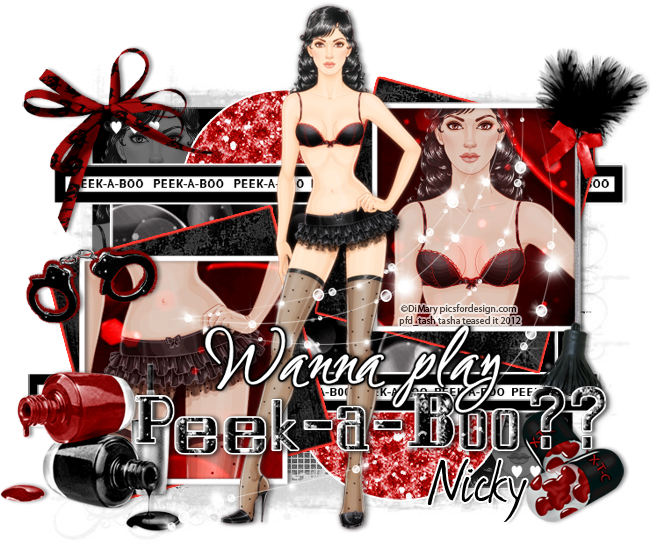 Kit- Seduce Me by Inzpired Creationz. You can purchase this kit from Twilight Scraps here.
Tube- Mary by DiMary which can be purchased from PFD here.
Template- Template 59 by Kandi Kissez here
Mask- Vix_Mask404 here (the last one)
Photoshop CS5 or program of choice
I use a Mac, so when I say Command, you may need to use Ctrl
Open your template. Image>Duplicate, close out original.
First we are going to replace layers from the template with papers from the kit.
To do this, activate the template layer by hitting Command while clicking the layer's icon in the layer palette window.
Add paper of choice as a new layer above the template layer.
Select>Inverse. Hit Delete on paper layer. Deselect. Delete original template layer.
light pink circles- paper 10
light pink rectangle- paper 2
dark pink squares- paper 5
On the Pink Gradient Strips layer- Command+U to bring up Hue/Saturation window.
Colorize to white by increasing the Lightness.
Repeat with the Hearts layer
On the Peek-A-Boo word art layer, double click to bring up layer styles.
Apply Bevel and Emboss with these settings:
On the circles, rectangle, and black strips layers, bring up layer styles
and add a Stroke- 2px wide, Outside, White.
On the squares layer (paper 5) add a Stroke- 2px, Outside, Red
Select your Black Squares layer at the bottom. Add parts of your tube in each selection.
Select>Inverse. Hit Delete on tube layers. Deselect. Change blend mode to Luminosity.
Lower opacity on tubes to 50%
Select your frame backs layer (paper 1). Add parts of your tube in each selection.
Select>Inverse. Hit Delete on tube layers. Deselect. Merge those tubes into one layer.
Duplicate. On bottom tube layer, desaturate and change blend mode to Hard Light, Opacity 50%.
On top tube layer, Blend mode Screen, Opacity 75%.
Add main tube choice below the Peek-a-boo back layer.
Now add some elements from the kit to your tag. Resize, angle and drop shadow as you go.
From bottom to top I used:
Now let's get our mask ready! Open your mask on a new canvas.
Drag your paper of choice to it as a new layer.
Make sure your mask layer is activated and Command+A to Select All, Command+C to Copy
Activate the paper layer, hit Q to turn on Quick Mask mode
Command+V to paste the mask..it should now be tinted red
Hit Q to turn off Quick Mask mode and there should now be marching ants showing the mask outline
Hit the Add Layer Mask button at the bottom of the layer palette (rectangle with the circle in it)
Right click- convert to smart object
Right click- Rasterize layer
Drag completed mask to your tag canvas as the bottom layer
Add license and copyright info
Add name and any additional text
Merge, save as png, enjoy!
Thank you for trying my tut! If you have any questions or would liked o show me your results, feel free to email me- bananas_68@yahoo.com