Tasha's Playground Fan Page

Find me on Facebook


Friday, July 6, 2012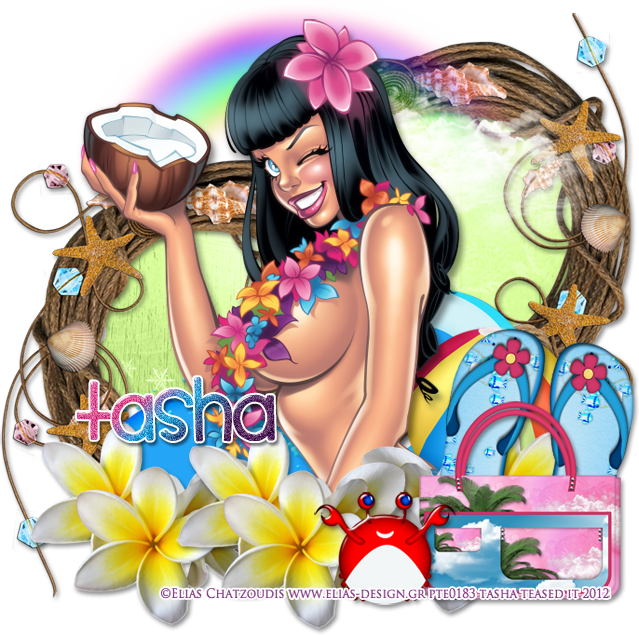 Kit- Summer Smiles by Disyas Digital Designs, which is available at Lollipops N Gumdrops here
Tube- I'm using the work of Elias Chatzoudis which is available at PTE with a valid license.
Font- Smiley Monster or font of choice
Photoshop CS5 or program of choice
I'm on a Mac, so when I use Command you may need to use Ctrl
Command+N to open a new canvas, 700x700, transparent background.
Open fr5 and place in lower left of canvas. Command+J to duplicate, then reposition copy in upper right of canvas like I have. Merge frame layers into 1.
Open paper of choice (I used p7) and place below frames.
Activate your magic wand tool (w) and click inside the frames. Click in the parts where the string loops too..just try to select as much as possible inside the frame.
Select>Modify>Expand by 5px. Select>Inverse. Hit delete on paper layer. Deselect.
Open element 61 and place at bottom of frames. Duplicate 2x. Spread flowers along bottom of tag- refer to my tag for placement.
Now open your tube of choice and place below flowers, between the frames. Add drop shadow of choice. I used- Opacity 45, Angle 120, Distance 8, Size 7.
Decorate your tag with elements from the kit. From bottom to top I used:
Add drop shadow of choice to elements (including frames). I used- Opacity 45, Angle 120, Distance 3, Spread 2, Size 5.
Using the Rectangle Marquee tool (m), create a selection around the entire tag, just a bit smaller than the canvas. Image>Crop. This will get rid of any stray pixels/dropshadows.
Image>Trim>Transparent Pixels...this will eliminate and excess space around the tag.
Add copyright and license info.
Add name and any text of choice.
Thank you for trying my tut! If you have any questions or would like to show me your results, feel free to email me (

bananas_68@yahoo.com

) or contact me on facebook.