Tasha's Playground Fan Page

Find me on Facebook


Saturday, March 2, 2013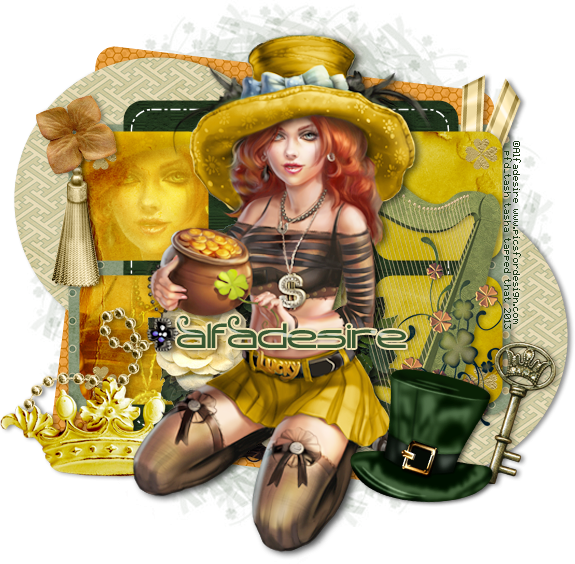 Kit- Irish Cream by BLT Designs which you can find at Twilight Scraps here
Tube- I'm using a multi-layered tube by alfadesire. You can purchase her art at PicsForDesign here. You need a license to use this artwork.
Mask- TBT_StPattysMask3 from Tonya at Creative Misfits here
Template- Template 208 by Millie here
I'm on a Mac, so when I use Command you may need Ctrl
This is a Photoshop tutorial but should work in any program.
Open your template. Image>Duplicate. Close out original. Delete credits.
Replace your template layers with papers from the kit.
To do this, add your paper above a template layer.
Right-click the paper, Create Clipping Mask.
Clip a close up of your tube to the paper on layer 7. Change blend mode to Overlay.
Add main tube. Command+J to duplicate.
On top tube layer, Blend Mode Screen, Opacity 75%.
Open layer styles and add drop shadow to bottom tube only.
Add elements from the kit to your tag. From bottom to top I used:
Add drop shadows as needed.
Now for the mask!! There are a few ways to do this...this is how I like to :)
Open your mask and add paper of choice above it.
With the mask layer highlighted, Select>All, Edit>Copy.
On paper layer, hit Q to activate Quick Mask Mode. If you see red, you're doing it right! Edit>Paste. Hit Q again to turn off Quick Mask Mode. The red should disappear and be marching ants.
Now click the Add Layer Mask button at the bottom of your layer palette box.
Rasterize the layer and drag it over to your tag canvas.
Resize and postion as needed.
Image>Trim>Top Left Pixel Color. This will get rid of any excess space on your tag.
Add name and any text of choice.
Add your license and copyright info.
Thanks for trying my tut. If you have any questions or would like to show me your results, feel free to email me at bananas_68@yahoo.com or friend me on facebook!