Tasha's Playground Fan Page

Find me on Facebook


Friday, September 21, 2012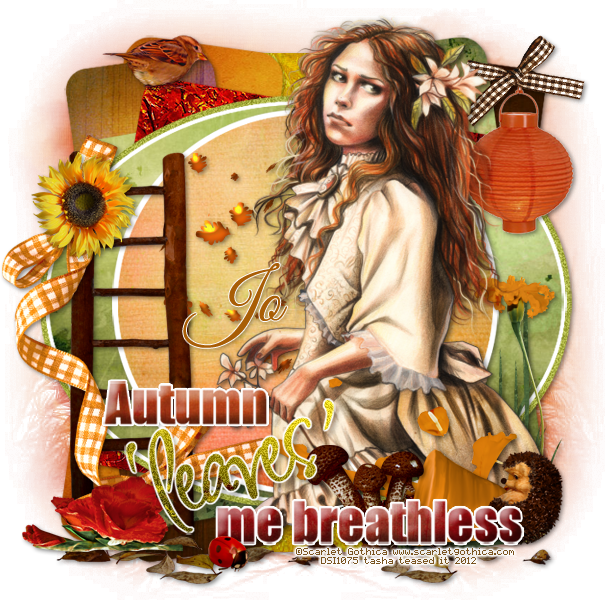 Kit- Fall Frolic by A Taggers Scrap. Visit her blog here for where you can purchase it.
Tube- I'm using a gorgeous tube by Scarlet Gothica which you can purchase at DSI with a valid license.
Template- Autumn Template by Dees'Sign Depot here
Mask- HorsePlay's Pasture Mask 22 here
I'm on a Mac, so when I use Command, you may need to use Ctrl
Open your template. Image>Duplicate. Close out original.
Delete the following layers:
left doodle- black, white and d/s
white square (directly below blue square)
right doodle- black, white and d/s
Replace layers from the template with papers from the kit.
To do this, add paper of choice above the template layer.
Right-click paper and choose "Create Clipping Mask".
This will clip the paper to the template layer!
Make sure you add your drop shadow to the original template layer :)
For each template layer, I used:
right blue strip- paper 15
left blue strip- paper 15
inside green oval- paper 17
leaves black- paper 18 (add noise 15%)
Double click on the original word art layer to bring up Layer Styles. Add the following:
From bottom to top, add the following elements from the kit to your tag:
Refer to my tag for placement.
leaves 4 (duplicate and reposition)
Add your tube directly below the petal scatter layer.
Add drop shadows to all the layers.
Now let's get our mask ready! Open your mask on a new canvas.
Add a new layer above it, and flood fill with color of choice,
Make sure your mask layer is activated and Command+A to Select All, Command+C to Copy.
Activate the paper layer, hit Q to turn on Quick Mask mode.
Command+V to paste the mask..it should now be tinted red.
Hit Q to turn off Quick Mask mode and there should now be marching ants on your canvas.
Hit the Add Layer Mask button at the bottom of the layer palette (rectangle with the circle in it)
Right click- convert to smart object
Right click- Rasterize layer
Drag completed mask to your tag canvas as the bottom layer
I duplicated it once to make it darker.
With your Rectangular Marquee Tool (m), draw out a selection around the entire
tag, just slight smaller than the canvas. Image>Crop.
This will get rid of any stray pixels or drop shadows you don't see.
Image>Trim>Top Left Pixel Corner to remove the excess space.
Add your license and copyright info to the tag.
Add name and any other text of choice.
Merge, save as PNG and enjoy :)
Thank you for trying my tut. If you have any questions or would like to show me your results, feel free to email me (bananas_68@yahoo.com) or post them on my Facebook :)