Tasha's Playground Fan Page

Find me on Facebook


Friday, February 8, 2013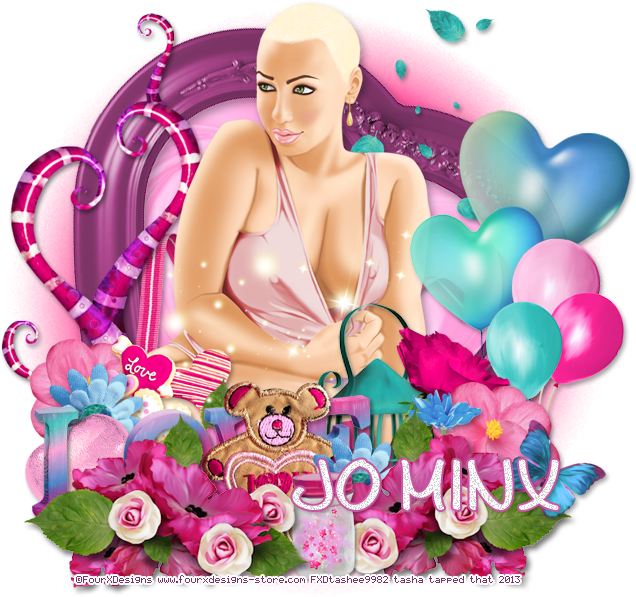 Kit- Raspberry Ripple Romance by A Taggers Scrap. This kit if packed full of fun, bright goodness! Visit Jo's blog here to check it out!!
Tube- I'm using the always amazing work of FourXDesigns. You can find her store here.
I'm on a Mac, so when I use Command, you may need to use CTRL
Command+N to open a new canvas 700x700, white background.
Place frame 6 in center of canvas. Command+T to bring up Free Transform (Edit>Transform)
and angle the frame down to the right a bit like in my tag.
Add paper 12 below that. Magic Wand (w) click inside the frame.
Select>Modify>Expand by 5. Select>Inverse, hit delete on the paper layer. Deselect.
Double click frame to bring up layer styles. Add drop shadow of choice.
Add tube above frame. Resize to fit how you like her.
I like to add a nice soft glow to my tubes. To do that-
Command+J to duplicate. On top copy, Filter>Blur>Gaussian Blur 2px.
Blend Mode Hard Light, Opacity 30%.
Play with both of those settings to suit your tube and taste :)
Now just add some elements from this gorgeous kit to your tag!!
From bottom to top I used:
Now add your text. Filter>Noise>Add Noise 25%.
Stroke: 2px, outside, color of choice
Add drop shadows to the elements as well to give the tag some depth :)
Close out your white background,
Image>Trim>Transparent Pixels. That will crop off any excess space.
Add your license and copyright info
Save as PNG to keep the transparency and you're done!!
Thanks for trying my tut. If you have any questions or would like to show me your results, feel free to email me at bananas_68@yahoo.com or friend me on Facebook!