Tasha's Playground Fan Page

Find me on Facebook


Friday, February 8, 2013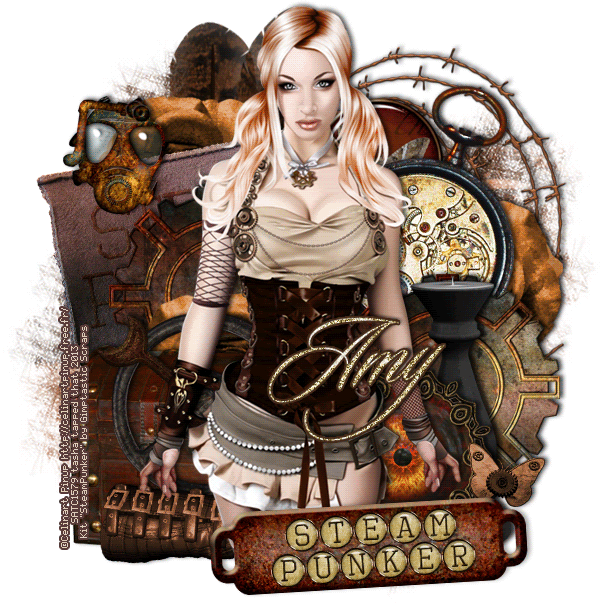 *click to view full size*
Tube- Kato Steampunk by Celine Pinup
I'm on a Mac, so when I use Command you may need to use CTRL
Command+N to open a new canvas 650x650, white background.
There is really no way to describe how I arranged my elements..I just play around
until it clicks lol. I grouped some elements together (select the ones you want, then Command+G to create a group) to make it easier to animate. There are lots of fun things in this kit, I used:
Add your tube above the butterfly layer. I like a soft glow on my tubes. To do this-
Command+J to duplicate. On top tube Filter>Blur>Gaussian Blur 2px.
Blend Mode Soft Light, Opacity 45%. Play with both those settings to suit your tube and taste :)
Click layer styles and add drop shadows to elements and bottom tube copy.
Add name and any text. To the name I added noise (Filter>Noise>Add Noise) and applied a few layer styles:
Now for the mask!! There are a few ways to do this...this is how I like to :)
Open your mask and add paper of choice above it.
With the mask layer highlighted, Select>All, Edit>Copy.
On paper layer, hit Q to activate Quick Mask Mode. If you see red, you're doing it right! Edit>Paste. Hit Q again to turn off Quick Mask Mode. The red should disappear and be marching ants.
Now click the Add Layer Mask button at the bottom of your layer palette box.
Rasterize the layer and drag it over to your tag canvas.
Resize and postion as needed.
Image>Trim>Top Left Pixel Color. This will get rid of any excess space on your tag.
Add your license and copyright info.
If you are not going to animate, close out the white background and save as PNG.
Keep your white background there! Otherwise, you'll end up with nasty edges from the drop shadows.
First rename your two cogs that you are going to rotate. I named them both 1 since they will be the first ani frame.
Window>Animation to open the animation window. You will see that your first frame is already there waiting for you..yay!
Duplicate the first frame-
Close out the cog layers and duplicate them. Rename them both 2. On the bottom right one, Free Transform (command+T) 10 degrees to the right.
Do the same with the other cog, except do -10 degrees.
Duplicate the animation frame. Close out the cog layers and duplicate them. Rename them both 3. Rotate them 20 and -20 degrees, respectively.
Repeat these steps until you are done, increasing the degrees by 10 each time..I ended up with 27 layers.
Change the delay time to 0 sec and set to loop forever.
Edit>Save for Web & Devices and save as GIF.
Thanks for trying my tut!! If you have any questions or would like to show me your results, feel free to email me at bananas_68@yahoo.com or friend me on Facebook.