Tasha's Playground Fan Page

Find me on Facebook


Monday, February 11, 2013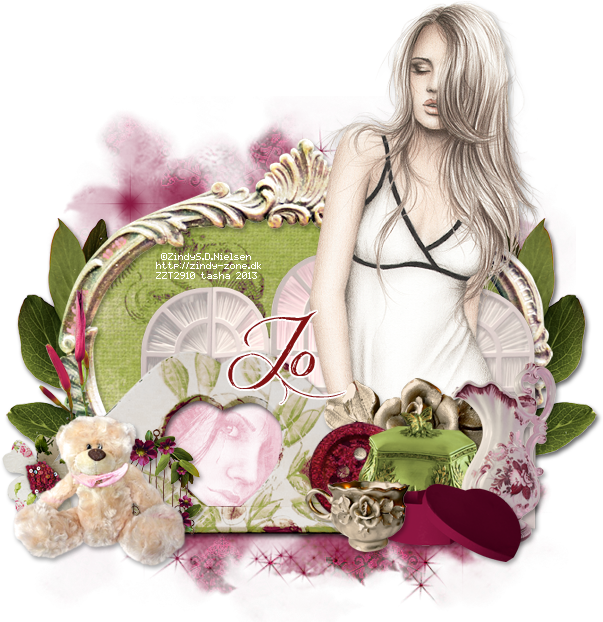 Kit- Vintage Romance by A Taggers Scrap. This beautiful kit comes with a freebie add-on. Visit Jo's blog here for details.
Tube- I'm using the art of Zindy Nielsen which you can purchase from her store here. You need to have a valid license to use her work.
Mask- Mask 69 from Scrappy Bit Of Fun here
Font- Jellyka Delicious Cake
I'm on a Mac, so when I use Command you may need to use Ctrl
Command+N to open a new canvas 700x700
Place frame 1 on canvas, and place paper 26 below it.
Click in the frame with the magic wand tool.
Select>Modify>Expand by 5px. Select>Inverse.
Hit delete on the paper layer.
Add frame 10 to bottom of frame 1.
Place paper 19 below it in the heart using the method above.
Add tube above paper so it shows in the heart. Right-click tube and create a clipping mask.
Desaturate tube and change blend mode to Screen.
Add main tube to top of frame. Drop shadow using Layer Styles.
Add some elements from the kit to your tag.
From bottom to top I used:
Now for the mask!! There are a few ways to do this...this is how I like to :)
Open your mask and add paper of choice above it.
With the mask layer highlighted, Select>All, Edit>Copy.
On paper layer, hit Q to activate Quick Mask Mode. If you see red, you're doing it right! Edit>Paste. Hit Q again to turn off Quick Mask Mode. The red should disappear and be marching ants.
Now click the Add Layer Mask button at the bottom of your layer palette box.
Rasterize the layer and drag it over to your tag canvas.
Resize and postion as needed.
Image>Trim>Top Left Pixel Color. This will get rid of any excess space on your tag.
Add name and any text of choice.
Add your license and copyright info.
Thanks for trying my tut. If you have any questions or would like to show me your results, feel free to email me at bananas_68@yahoo.com or friend me on facebook!