Tasha's Playground Fan Page

Find me on Facebook


Thursday, March 8, 2012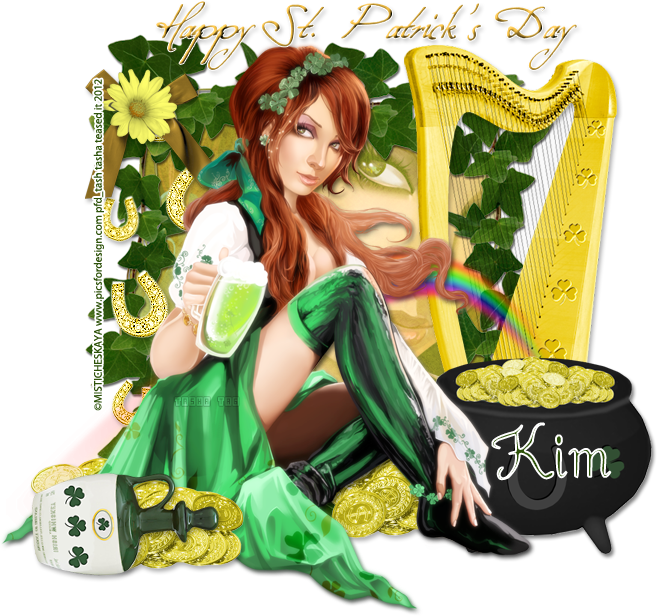 Kit- "Lucky" by Kim's Korner. You can purchase this great kit at Twilight Scraps.
Tube- I'm using "Patricia" by Misticheskaya. This tube can be purchased at PFD.
Photoshop CS5 or program of choice
(I use a Mac, so when I use "Command" you may need to use "Ctrl")
Command+N to open a new window 700x700
Open your frame of choice. I chose Frame 04.
Hit W to activate the magic wand tool. Make sure both Anti-Alias
and Contingency are checked, tolerance 100. Click inside the frame.
Resize and drag paper of choice to canvas, Select>Inverse, hit delete on paper layer.
Drag tube close up to canvas above paper, hit delete on keyboard.
Deselect. Change blend mode of close up to Screen or whatever you like :)
Open and resize the Harp, place to side of frame.
Do the same with the Pot of Gold and Rainbow. You may need to flip the R
ainbow
and resize so it appears to be coming out the Pot of Gold.
Now open your Coins layer. Duplicate and Reposition along bottom of frame.
Place some below and above the Pot of Gold layer.
On the opposite side of your frame than the Harp,
place the Horseshoe Cluster, a Bow, and a flower.
Open and place the Whiskey. Command+T to rotate it so it's laying on it's side.
At the top of your tag, place Wordart4. Double click the layer to bring up Layer Style window.
Add a 1 px White Stroke and a small drop shadow so it stands out
Place your main tube choice on the canvas. I put her between the coin layers to add
depth to the tag- that's just a personal preference.
I like a nice glow on my tubes, so I duplicate, then go to Filters>Blur>Gaussian Blur 2
Change blend mode to Screen, Opacity 65%- play with the blend options to see what you like!
Go through and add a nice drop shadow to your layers. To do this, double click
a layer, click "Drop Shadow" and create your settings.
Then Right-Click that layer, Copy Layer Style.
You can then Right-Click the other layers and Paste Layer Style
For your main tube, only drop shadow the bottom tube layer.
Now Image>Trim-Top Left Pixel Color
Image>Resize Image (if you want)
Add your license and copyright info
Add name and any text of choice
Merge, save as PNG file, enjoy :)
Thank you for trying my tut! If you have any questions or would like to show me your results, feel free to email me- bananas_68@yahoo.com