Tasha's Playground Fan Page

Find me on Facebook


Tuesday, March 13, 2012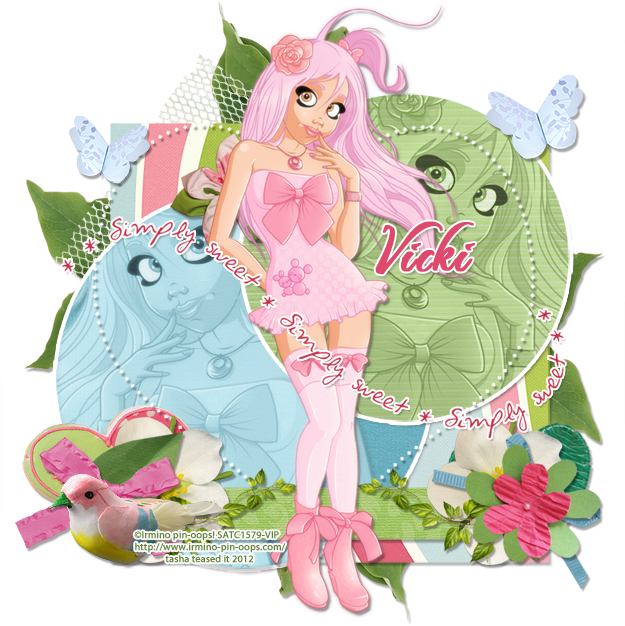 Kit- "Simply Sweet" by Gemini Creationz. This gorgeous kit is available at SATC here.
Tube- "Candy Shy" by Irmino Pin-oops which is also available for purchase at SATC with a valid license. You can find this multi-layered tube here.
Template- TemplateCollab2_CrysDeb from Creative Misfits Creations here
Font- TheNautiGal or font of choice
Photoshop CS5 or program of choice
(I use a Mac, so when I use "Command" you may need to use "Ctrl")
Open your template and duplicate it. Close out the original.
Delete layers- Raster 11 through Raster 5, Raster 9 and Raster 10
Replace the remaining layers with papers from the kit. To do this:
Resize and add paper of choice to canvas
Command+Click on the icon of the template layer in the layers window to select it
Select>Inverse, then hit delete on the paper layer. Delete original layer, deselect.
For each remaining layer I used-
Now activate and select your right circle layer
Add a close up tube, Select>Inverse, hit delete on tube layer. Deselect
Change Blend mode to luminosity, lower opacity a bit.
Now repeat with left circle layer, just flip your close up before you add it (edit>transform>flip horizontal)
Double click each circle layer to bring up your Layer Styles box.
Add a White Stroke about 3 or 4 pixels wide.
Add your main tube of choice in the middle.
Decorate your tag with elements from the kit.
Resize as you go along. From bottom to top I used:
greenery- flip horizontal & vertical, reposition
butterfly- duplicate, flip, resize, reposition
Add text path above main tube layer. Recolor (I picked a color from the paper flower),
Add a white stroke 2 pixels wide.
Open you layer styles box and add a drop shadow to the very bottom element.
Right-click layer, copy layer style, then paste layer style to each remaining element.
Image>Trim>Top Left Pixel Color
Add copyright and license info
Add name and any additional text
Merge, save as PNG, enjoy :)
Thank you for trying my tut! If you have any questions or would like to show me your results, feel free to email me- bananas_68@yahoo.com