Tasha's Playground Fan Page

Find me on Facebook


Friday, April 13, 2012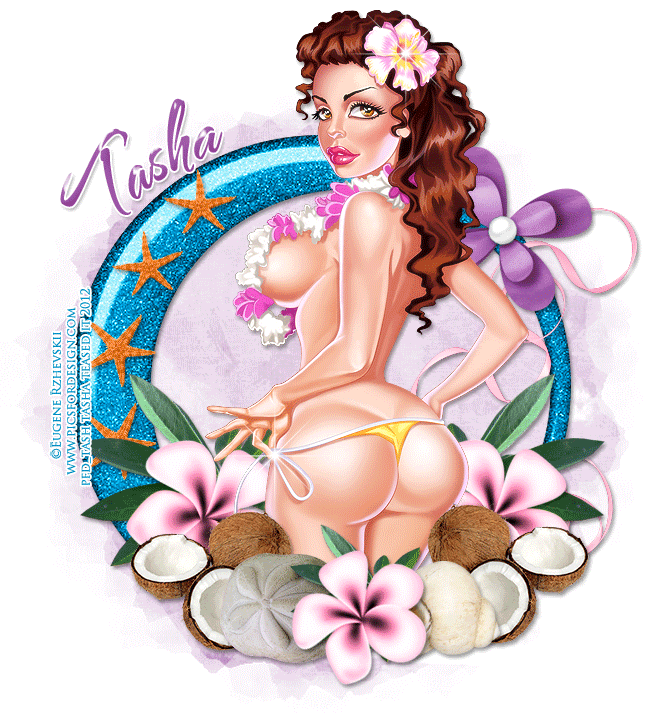 Kit- FTU kit Mermaidia by Scrappin Krazy Designs. You can download this and lots of other goodies by visiting her blog here
Tube- I'm using a gorgeous tube by Eugene Rzhevskii which you can get from PFD here
Mask- HorsePlay'sPasture Mask 9 here
Animation- LG-WhiteBurst-lovey'11 (I used the PSD version included in the 2011 zip here) from Lovey or any burst animation of choice
Photoshop CS5 or program of choice
I use a Mac, so when I use Command you may need to use Ctrl
Open a new canvas 700x700 with a white background.
Center your frame on the canvas (element 48)
Resize and place paper of choice (I used p18) behind frame
Using your magic wand tool (w) click inside frame.
Select>Modify>Expand by 5px. Select>Inverse.
Activate paper layer and hit delete. Command+D to deselect.
Open your starfish (element 13).
Command+T to resize and angle them so they fit on the frame.
Make sure you hold the Shift key while you resize so the proportions stay the same.
Command+J to duplicate your starfish, resize a bit more and reposition like on my tag.
Open element 33, place at top right of frame.
Place element 58 above that so it looks like the ribbon is coming from the flower.
Place element 32 to the left of frame. Command+J to duplicate.
Edit>Transform>Flip horizontal, then reposition to right side of frame.
Duplicate it again, resize, and place in the bottom center of frame.
Repeat the above steps with element 49, placing the flowers on top of each leaf cluster.
Now add some elements to fill in the gaps.
22- duplicate, flip, reposition
8- placed in a couple spots (hair flower, bikini knot)
Add your tube of choice so she's nestle in the middle of the elements.
Add drop shadows as needed.
Now let's get our mask ready! Open your mask on a new canvas.
Add a new layer above it, and flood fill with color of choice,
or use a paper from kit (I used p10).
Make sure your mask layer is activated and Command+A to Select All, Command+C to Copy.
Activate the paper layer, hit Q to turn on Quick Mask mode.
Command+V to paste the mask..it should now be tinted red.
Hit Q to turn off Quick Mask mode and there should now be marching ants on your canvas.
Hit the Add Layer Mask button at the bottom of the layer palette (rectangle with the circle in it)
Right click- convert to smart object
Right click- Rasterize layer
Drag completed mask to your tag canvas as the bottom layer
Crop, trim and resize your tag.
Add your license and copyright info.
Add name and any text of choice.
If you aren't going to animate, delete the white background, merge and save as PNG.
Open your animation and delete the credit layer.
Alt+Command+A to Select All Layers (or go to Select>All Layers)
Command+G to group the layers.
Drag your grouped layers over to tag canvas, below your tube.
Expand group folder and hide all but the first frame (Frame 2)-
to hide and unhide layers, click the eye next to them in the layer window.
Open your animation window- Windows>animation
You will see your first complete frame already there.
Duplicate that frame in the animation window.
Now hide your first animation frame and unhide the 2nd.
Duplicate the frame in the animation window.
Hide the 2nd animation frame and unhide the 3rd.
Continue until you have used all the animation frames.
If you used the same ani as I did, you should have 20 frames total.
I changed the timing to No Delay, but it's your preference.
File>Save for Web & Devices, save as a GIF file..
Thank you for trying my tut. If you have any questions or would like to show me your results, feel free to email me- bananas_68@yahoo.com
Here are some non-animated snags I did with this tag. Just click them to view full size, then right-click and save to your computer. Please do not alter these in any way, that includes adding names to them. Enjoy :)