Tasha's Playground Fan Page

Find me on Facebook


Thursday, April 26, 2012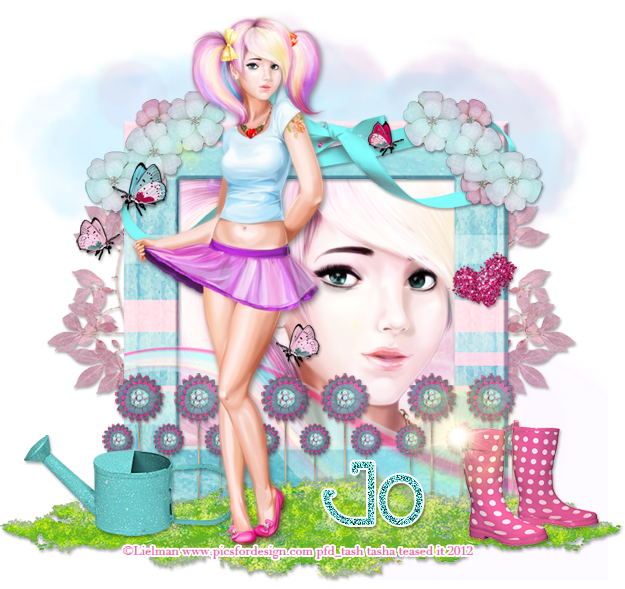 Kit- Flowers & Showers by A Taggers Scrap. You can find here to purchase this great kit here.
Tube- Mia by Lielman. This tube can be purchased at PFD
Photoshop CS5 or program of choice
I'm on a Mac so when I use Command, you may need to use Ctrl
Open a new canvas 700x700
Place and resize frame of choice. I used Frame 1.
Below the frame, resize and place tube close up and paper of choice ( I used paper 22).
Click inside the frame using your magic wand tool (w).
Select>Modify>Expand by 5 px. Select>Inverse.
Hit Delete on the paper and close up tube layers. Deselect.
Command+J to duplicate tube layer. Change bottom tube's Blend Mode to Luminosity.
Change top tube's Blend Mode to Hard Light.
Open Layer Styles by double clicking on frame layer and add drop shadow to frame only.
Below your paper layer, add Leaves 4 and place to left of frame.
Duplicate. Edit>Transform>Flip Horizontal. Reposition behind right side of frame.
Repeat the above steps with the Cloud element.
Above frame, open Rainbowlight and resize so the left side lines up with the frame.
Add Flowers 3. Duplicate a few times and reposition to create a line in front of the frame.
Merge your flowers together to one layer and add drop shadow.
Add Bow 6 to top of frame, drop shadow.
Open and resize Flowers 2. Duplicate and place on each top corner of the frame.
Now open your Grass element and place at bottom of frame.
Add some elements from the kit to decorate your tag. I used:
Add drop shadow to everything but the lens flare.
Now add your main tube and drop shadow.
Crop and resize your tag.
Add license and copyright info.
Merge, save as PNG and enjoy :)
Thank you for trying my tut. If you have any questions or would like to show me your results, feel free to email me: bananas_68@yahoo.com