Tasha's Playground Fan Page

Find me on Facebook


Sunday, March 20, 2011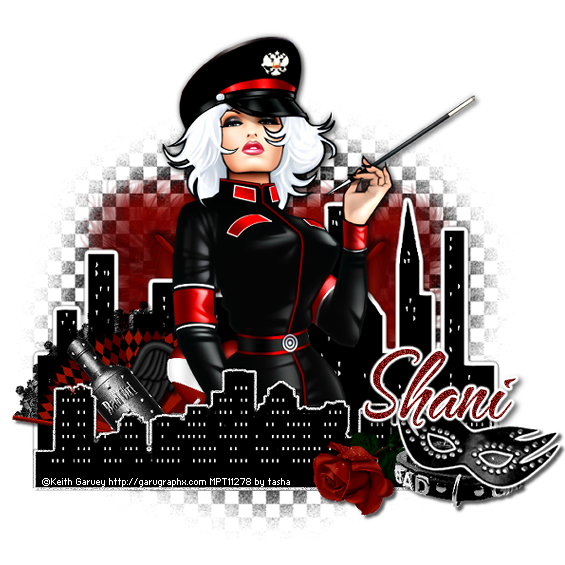 Supplies:
Kit used: I used Shani's new kit- Darling Nikki. You can find information about purchasing this kit at her blog,
Wicked Princess Scraps
. 
Tube of choice: I'm using the amazing work of Keith Garvey. You can find his tubes for purchase at
PTE
. Do not use this work without the proper license.
Mask: I used DBV Masks 109 by Vaybs. You can get it from her blog
here
Font: TheNautiGal
Plug-ins: Xero-radiance
Here we go :)
Open a new image 700x700. You can resize later
Open PP3, c/p onto canvas
Layers>new mask layer>from image. apply mask
Copy/Paste Feather 2. Resize 90%. Image>flip
Duplicate. Image>mirror
Open and resize the following elements:
cityscape- 50%
fan- 45%
winged heart arrow- 30%
paddle- 35% then 80%
small cityscape
single rose- 20%
collar- 35% then 85%
mask- 50% then 85%. rotate right about 15 degrees.
Add a fat gradient glow to mask
Add tube of choice and place between the two cityscapes.
Duplicate. On top layer apply Xero>Radiance- at your preference
Adjust>Gaussian blur-3
Change blend mode to soft light
Drop shadow the bottom tube layer

Add name/text of choice.
Add noise and a fat gradient glow
Apply dropshadow to name and elements
Resize if needed
Add copyright and license info
Save and enjoy :)
Thank you for trying my tut. If you have any questions or would like me to post your results, please email at
bananas_68@yahoo.com